OUR EXCELLENT SERVICE IS BACKED BY HIGHLY TRAINED, INSURED PROFESSIONAL TECHNICIANS THAT PRACTICE THE HIGHEST SAFETY STANDARDS IN THE INDUSTRY
Outback GutterVac has the best technicians in the gutter cleaning industry that provide quality client service with an emphasis on safety. With Outback GutterVac, you know you are getting a team that:
Carries comprehensive insurance
Complies with national (OSHA) safety requirements
Receives extensive safety training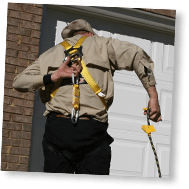 Training makes the difference
With Outback GutterVac, you are assured that the technicians working on your property have received extensive training in safety procedures. The liability risks are too great when you have a "summer job" employee working on your roof, but with Outback GutterVac, you are guaranteed a trained technician that employs the latest safety techniques in gutter cleaning.
Comprehensive insurance for peace of mind
Outback GutterVac technicians are fully insured, and we comply with national (OSHA) & state safety requirements.