GUTTERROOTM IS A SUPERIOR SOLUTION TO GUTTER GUARDS AT A FRACTION OF THE COST
GutterRoo™ is a simple "Twisted in Wire" brush similar to a large heavy duty bottle-brush. Its bristles prevent leaves and debris from building up and collecting in the gutter, while still allowing water to continue to flow freely into the rain gutter through the bristles and down your downpipes. The GutterRoo™ system will keep your gutters flowing in between cleans.
The difference between GutterRooTM and gutter guards
Permanent gutter protection devices pose many risks to your property. While the gutter covers block large debris, they do not stop fine dirt and dust from getting into your gutter system. This sludge will build up over time, blocking your gutters and downpipes.
GutterRoo™ brushes can be quickly and easily removed for a thorough gutter cleaning. This prevents the accumulation of dirt and sludge and greatly reduces the chances of damage to your home.
Permanent gutter covers provide a protected, food-rich environment for vermin and pests to breed. Vermin feed off roof sludge and debris, and breed in warm ceiling cavities. GutterRoo™ brushes block access to the gutter space, keeping vermin and pests out of your gutter while still allowing water to flow freely through your gutter system.
Whole house solutions
for as little as $500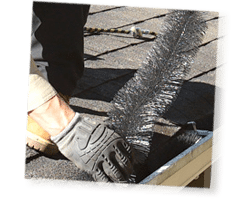 Permanent gutter guard solutions can cost you thousands of dollars, and they still do not keep out all of the debris as advertised. GutterRoo™ provides a simple, cost-effective solution that can cost as little as $500 for purchase and installation.
ORDER GUTTERROOTM Brushes
To purchase and arrange for the installation of your Gutterroo™ Brush call 877-703-4822.