Commercial Cleaning Standards
OUTBACK GUTTERVAC PROVIDES THE HIGHEST COMMERCIAL CLEANING STANDARDS IN THE INDUSTRY
Each of our technicians is equipped with training in Outback GutterVac's vacuum and pressure washing technology and provides quality service with an emphasis on safety. With Outback GutterVac you know you are getting a team that:
Is professional and courteous
Is on time and efficient
Follows high service standards
Has specialty training in our proprietary technology
Removes all debris from your property
Complies with national (OSHA) & state safety requirements
Carries comprehensive insurance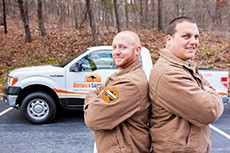 Outback GutterVac's team is committed to excellence in client service and offers some of the most advanced and highest quality cleaning services available. Our services are convenient, safe and offer tremendous value.